"Common Ground for Peace"
The Monday, October 8 symposium featuring His Holiness the Dalai Lama convenes international thought leaders and the SU campus in critical conversations about how to shift global consciousness toward matters of peace. Sessions include "The Rise of Democracy in the Middle East" and "Shifting the Global Consciousness."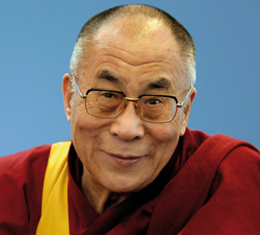 His Holiness the 14th Dalai Lama, Tenzin Gyatso
His Holiness the 14th Dalai Lama, Tenzin Gyatso, is both the head of state and the spiritual leader of Tibet. He was awarded the Nobel Peace Prize in 1989 for his non-violent struggle for the liberation of Tibet, and has consistently advocated policies of non-violence, even in the face of extreme aggression. He also became the first Nobel Laureate to be recognized for his concern for global environmental problems.
His Holiness has traveled to more than 62 countries spanning six continents. He has met with presidents, prime ministers, and crowned rulers of major nations. He has held dialogues with the heads of different religions and many well-known scientists.
 
Since 1959, His Holiness has received more than 84 awards, honorary doctorates, and prizes, in recognition of his message of peace, non-violence, inter-religious understanding, universal responsibility and compassion. Among his many honors are the U.S. Congressional Gold Medal; the Mahatma Gandhi International Award for Reconciliation and Peace; the Templeton Prize from the John Templeton Foundation; the Dayanand Modi Award for Art, Culture and Education, from the Dayawati Modi Foundation; the International Freedom Award from the National Underground Railroad Freedom Center; and a Lifetime Achievement Award from the Caring Institute.
His Holiness has also authored more than 72 books, including My Spiritual Journey (HarperOne, 2010), written with Sofia Stril-rever; Toward a True Kinship of Faiths (Doubleday, 2010); The Middle Way—Faith Grounded in Reason (Wisdom Publications 2009), translated by Thubten Jinpa; and The Art of Happiness in a Troubled World (Doubleday, 2009), written with Howard C. Cutler.
His Holiness describes himself as a simple Buddhist monk.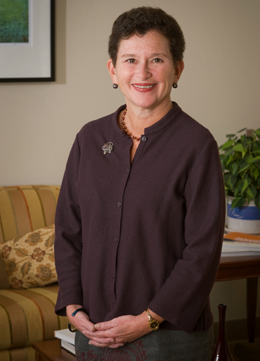 Nancy Cantor
Nancy Cantor is the 11th Chancellor and President of Syracuse University, as well as Distinguished Professor of Psychology and Women's Studies in the College of Arts and Sciences. Cantor came to Syracuse from the University of Illinois at Urbana-Champaign, where she was chancellor. She has held a variety of administrative positions encompassing all aspects of a research university—from chair of the department of psychology at Princeton to dean of the graduate school and then provost and executive vice president for academic affairs at the University of Michigan.
Cantor has been an advocate for racial justice and for diversity in higher education, writing and lecturing widely on these subjects, as well as on liberal arts education and the creative campus. She holds an A.B. degree from Sarah Lawrence College and a Ph.D. degree in psychology from Stanford University. She is a Fellow of the American Academy of Arts and Sciences, a member of the Institute of Medicine of the National Academy of Sciences, and a member of the National Academies Roundtable on Science and Technology for Sustainability. She has received the Distinguished Scientific Award for an Early Career Contribution to Psychology from the American Psychological Association, the Woman of Achievement Award from the Anti-Defamation League, the Making a Difference for Women Award from the National Council for Research on Women, the Carnegie Corporation Academic Leadership Award, and the Frank W. Hale Jr. Diversity Leadership Award from the National Association of Diversity Officers in Higher Education.
Cantor is the past chair of the board of directors of the American Association for Higher Education and former chair of the board of the American Council on Education. Among the boards of which she is a member are the American Institutes for Research, Say Yes to Education, and the Future of Minority Studies. She is an honorary trustee of the American Psychological Foundation and was national co-chair of Imagining America's Tenure Team Initiative.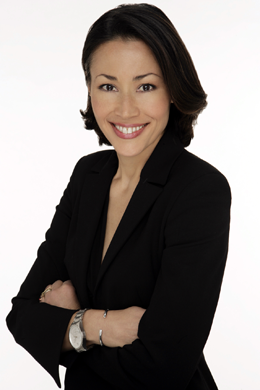 Ann Curry
Ann Curry is the NBC News national and international correspondent/anchor and TODAY anchor at large. Curry reports for all platforms of NBC News, and serves as anchor for multiple NBC News primetime specials.
Curry has distinguished herself in global humanitarian reporting, frequently traveling to remote areas of the world for under-reported stories. She has conducted numerous exclusive interviews with world leaders and dignitaries, including three notable discussions with the Dalai Lama. Curry interviewed former Pakistan Prime Minister Benazir Bhutto just two months before her assassination in December 2007. In September 2011, Curry was granted the first-ever behind-the-scenes access to Iranian President Mahmoud Ahmadinejad during his daily schedule.
She joined NBC News in August 1990 as a Chicago-based correspondent. In 1992 she was named anchor of NBC News at Sunrise. She later helped launch MSNBC and then became news anchor at TODAY. Before coming to NBC, Curry was a reporter for KCBS in Los Angeles. She began her broadcasting career as an intern in 1978 at KTVL, in Medford, Oregon, near her hometown, rising to become the station's first female news reporter.
Curry has earned seven Emmy Awards, four Golden Mikes, several Associated Press certificates of excellence, and an award for Excellence in Reporting from the NAACP. Honored with the Simon Wiesenthal Medal of Valor for her extensive reporting in Darfur, she has also received numerous awards for her charity work, primarily for breast cancer research.
She graduated from the University of Oregon School of Journalism in 1978.
Gregg Lambert
Gregg Lambert is Dean's Professor of Humanities and founding director of the Syracuse University Humanities Center. He is also principal investigator of the Central New York Humanities Corridor, a collaborative research network among Syracuse University, Cornell University, and University of Rochester, funded by the Mellon Foundation. 
He earned a Ph.D. degree in comparative literature with emphasis in critical theory from the University of California at Irvine, finishing his dissertation under the direction of the late French philosopher Jacques Derrida and literary theorist Gabriele Schwab. Prior to entering the program at UC Irvine, he was a fellow in the Center for Hermeneutic Studies at the Graduate Theological Union, where he completed a master's degree program in theology and literature, and also completed graduate studies in French and comparative literature at the University of California, Berkeley.
Lambert joined the Department of English at Syracuse University in 1996 and was later appointed department chair. He is internationally renowned for his scholarly writings on critical theory and film, the contemporary university, Baroque and Neo-Baroque cultural history, and especially for his work on the philosophers Gilles Deleuze and Derrida. He has lectured internationally, including serving as a Visiting Distinguished Professor at Ewha University, Seoul National University. He was appointed as the BK21 Visiting Distinguished Scholar at Sungkyunkwan University, South Korea.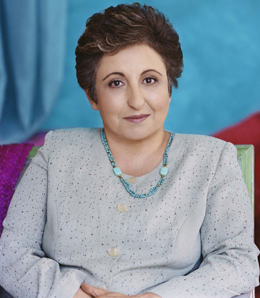 Shirin Ebadi
Shirin Ebadi was awarded the 2003 Nobel Peace Prize for her efforts to promote human rights—in particular, the rights of women, children, and political prisoners in Iran. She is the first Muslim woman to receive the Nobel Peace Prize, and was one of the first female judges in Iran. She served as president of the city court of Tehran from 1975 to 1979 and was the first Iranian woman to achieve chief justice status. Along with other women judges, she was dismissed from that position after the Islamic Revolution in February 1979. She was made a clerk in the court she had once presided over, until she petitioned for early retirement. After obtaining her lawyer's license in 1992, Ebadi set up a private practice. She has taken on many controversial cases defending political dissidents and as a result has been arrested numerous times.
In addition to being an internationally recognized advocate of human rights, she has established many nongovernmental organizations in Iran, including the Million Signatures Campaign, which demands an end to Iranian legal discrimination against women.
Ebadi is also a university professor and has published more than 70 articles and 13 books dedicated to various aspects of human rights, some of which have been published by UNICEF. In 2004, she was named by Forbes Magazine as one of the 100 most powerful women in the world.
In January 2006, along with sister Laureates Jody Williams, Wangari Maathai, Rigoberta Menchú Tum, Betty Williams, and Mairead Maguire, Ebadi established the Nobel Women's Initiative, dedicated to strengthening the work being done in support of women's rights around the world.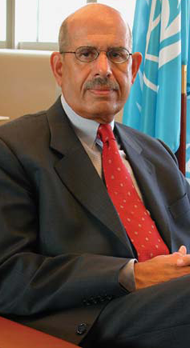 Mohamed ElBaradei
Mohamed ElBaradei was director general of the International Atomic Energy Agency (IAEA) from December 1997 until November 2009. An IAEA staff member since 1984, he held a number of high-level policy positions, including legal advisor and assistant director general for external relations.
He began his career in the Egyptian Diplomatic Service in 1964, serving in the Permanent Missions of Egypt to the United Nations in New York and Geneva, in charge of political, legal, and arms control issues. During this period, ElBaradei participated in the activities of many international and regional organizations, including the United Nations General Assembly, the United Nations Security Council, the Conference on Disarmament, the United Nations Conference on the Law of the Sea, the International Labour Organization, the World Health Organization, the Commission on Human Rights, the Organization of African Unity, and the League of Arab States.
In October 2005, ElBaradei and the IAEA were jointly awarded the Nobel Peace Prize "for their efforts to prevent nuclear energy from being used for military purposes and to ensure that nuclear energy for peaceful purposes is used in the safest possible way." At the end of his third term as director general in December 2009, ElBaradei was appointed director general emeritus of the IAEA. 
He has received multiple other awards for his work as a public servant and an advocate of tolerance, humanity, and freedom. ElBaradei earned a bachelor's degree in law at the University of Cairo, and a doctorate in international law at New York University School of Law.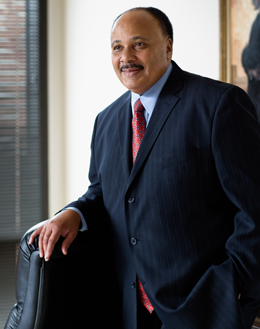 Martin Luther King III
Martin Luther King III, the oldest son of the late Dr. Martin Luther King Jr. and Coretta Scott King, is one of the nation's most ardent advocates for people who are poor, oppressed, and disillusioned. He was elected to political office in 1986 in Georgia, where he was instrumental in securing legislation on purification of the county's natural water resources, regulating minority business participation in public contracting, and stringent hazardous waste disposal requirements.
Committed to the personal and educational development of youth, King initiated several programs to support and nurture young people. His constant pursuit of justice through nonviolent means has included addressing the moral and political dilemmas of Haiti, Nigeria, Australia, and Sierra Leone, leading protests against the biased digital divide in the field of technology, and speaking to the United Nations on behalf of individuals living with the challenges of AIDS. 
In 1998, he began his tenure as president of the Southern Christian Leadership Conference, a role in which he aggressively fought injustice on many fronts. In 2003, King co-sponsored the 40th anniversary of the historic March on Washington with human rights organizations from across the country. He founded the nonprofit organization Realizing the Dream Inc., which later merged with The King Center, allowing him to share his father's message with a global audience through international nonviolence education workshops and programs. In conjunction with Ambassador Andrew Young and other partners, King co-founded Bounce TV, the first independently owned and operated TV network featuring African Americans.
The recipient of numerous awards and honorary degrees, King is a graduate of his father's alma mater, Morehouse College, where he earned a B.A. degree in political science in 1979. In 2010, he received one of India's most prestigious honors, the Ramakrishna Bajaj Memorial Global Award, for outstanding contributions to the promotion of human rights.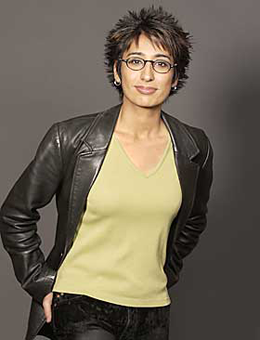 Irshad Manji
Irshad Manji is founder and director of the Moral Courage Project at New York University. She is author of Allah, Liberty and Love: The Courage to Reconcile Faith and Freedom, selected by O, The Oprah Magazine as one of "10 Books You Must Read Now." Manji's previous bestseller, The Trouble with Islam Today, compelled The New York Times to describe her as "Osama bin Laden's worst nightmare."
Wherever her books are banned, Manji reaches readers by posting free-of-charge translations on her website, IrshadManji.com. She is also the producer of Faith Without Fear, the PBS documentary that garnered an Emmy nomination for artfully following her campaign to promote women's equality, respect for minorities, and honest debate within Islam.
In all her work, Manji strives to show people that they are capable of "moral courage," the willingness to speak up in the face of intimidation. In that spirit, her Moral Courage Project at NYU equips students to become gutsy global citizens who challenge intellectual conformity and self-censorship.
Manji holds a bachelor's degree with honors from the University of British Columbia and an honorary doctorate of humane letters from the University of Puget Sound. She has served as a Visiting Fellow in international security studies at Yale University. Among her honors are the Visionary Award from the Women's International Film & Television Showcase, the Simon Wiesenthal Award of Valor from the Friends of Simon Wiesenthal Centre in Toronto, and the Susan B. Anthony Award from the National Organization for Women. In November, she will receive the Humanist of the Year Award from the New York Society for Ethical Culture.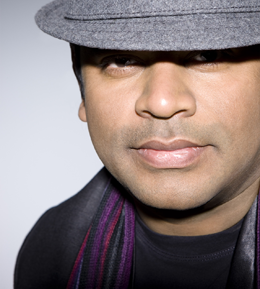 A.R. Rahman
A.R. Rahman is an Indian composer, singer-songwriter, music producer, musician, multi-instrumentalist, and philanthropist. Described as the world's most prominent and prolific film composer by Time, he creates works that are notable for integrating Eastern classical music with electronic music sounds, world music genres, and traditional orchestral arrangements. He has won two Academy Awards, two Grammy Awards, a Golden Globe, four National Film Awards, 15 Filmfare Awards, and 13 Filmfare Awards South, in addition to numerous other awards and nominations. His extensive body of work for film and the stage earned him the nickname "the Mozart of Madras" and several Tamil commentators and fans have coined him the nickname "Isai Puyal" (English: Music Storm). In 2009, Time placed Rahman on its list of World's Most Influential People. The UK-based world music magazine Songlines named him one of Tomorrow's World Music Icons in August 2011.
Having set up his own in-house studio called Panchathan Record Inn at Chennai, arguably one of Asia's most sophisticated, high-tech studios, Rahman's film-scoring career began in the early 1990s with the Tamil film Roja. Working in India's various film industries, international cinema, and theater, Rahman has sold more than 300 million records worldwide of his soundtracks for more than 100 film scores, making him one of the world's all-time top selling recording artists. In a notable career spanning two decades, Rahman has garnered particular acclaim for redefining contemporary Indian film music, contributing to the success of several films. He is also a notable humanitarian and philanthropist.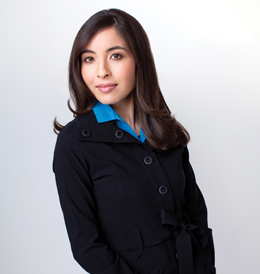 Roxana Saberi
Roxana Saberi is an Iranian American freelance journalist whose story received worldwide attention in 2009 when she was imprisoned in Iran, falsely accused of spying for the United States and sentenced to an eight-year prison term. Her battle for freedom lasted 100 days until an appeals court released her following an international uproar.
Saberi moved to Tehran in 2003 to open a fully accredited news bureau for the independent broadcast news agency Feature Story News (FSN). Through FSN, her reports were distributed to broadcasters around the world. She also made contributions to PBS, NPR, and Fox News. Her arrest occurred while she was researching a book on Iran.
The gripping memoir of Saberi's experiences in Iran, Between Two Worlds: My Life and Captivity in Iran, was released in March 2010. She has also been speaking out for Iran's "prisoners of conscience" as well as Iranians detained in the aftermath of the country's disputed presidential election.
Saberi has been honored with the Medill Medal of Courage, the Ilaria Alpi Freedom of the Press Award, the NCAA Award of Valor, and a Project for Middle East Democracy (POMED) Award. A native of Fargo, North Dakota, she is the daughter of an Iranian mother and Japanese father. Honored by the Japanese American Citizens League as an "Outstanding Woman," she is also a co-writer of the film No One Knows About Persian Cats.
She holds bachelor's degrees in communication and French from Concordia College, a master's degree in journalism from Northwestern University and a master's degree in international relations from Cambridge University.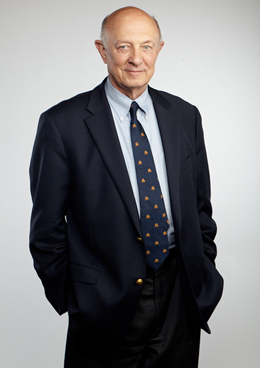 R. James Woolsey
R. James Woolsey is chairman of Woolsey Partners LLC and a venture partner with Lux Capital Management. He also chairs the board of the Foundation for Defense of Democracies, the Strategic Advisory Group of the Washington, D.C. private equity fund Paladin Capital Group, the advisory board of the Opportunities Development Group, and is of counsel to the Washington, D.C., office of the Boston-based law firm Goodwin Procter. 
Woolsey previously served in the U.S. government, including as director of Central Intelligence. He served as ambassador to the Negotiation on Conventional Armed Forces in Europe (CFE), Vienna; undersecretary of the Navy; and general counsel to the U.S. Senate Committee on Armed Services. He was also appointed to serve on a part-time basis in Geneva, Switzerland, as delegate at large to the U.S.–Soviet Strategic Arms Reduction Talks (START) and Nuclear and Space Arms Talks (NST). As an officer in the U.S. Army, he was an advisor on the U.S. Delegation to the Strategic Arms Limitation Talks (SALT I), Helsinki and Vienna.
Woolsey serves on a range of government, corporate, and nonprofit advisory boards and chairs several, including that of the Washington firm, ExecutiveAction LLC. He serves on the National Commission on Energy Policy, is co-chairman of the Committee on the Present Danger, chairman of the Advisory Boards of the Clean Fuels Foundation and the New Uses Council, and a trustee of the Center for Strategic & Budgetary Assessments. Previously he was chairman of the Executive Committee of the Board of Regents of The Smithsonian Institution, and a trustee of Stanford University. He has also been a member of The National Commission on Terrorism; The Commission to Assess the Ballistic Missile Threat to the U.S. (Rumsfeld Commission); and The President's Commission on Federal Ethics Law Reform. 
He earned a B.A. degree with great distinction, Phi Beta Kappa, from Stanford University, a master's degree from Oxford University (Rhodes Scholar), and an LL.B from Yale Law School.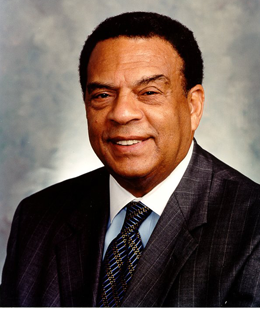 Andrew Young
Andrew Young has always viewed his career through the lens of his first professional role, that of ordained minister. His call to serve includes his work for civil and human rights, his many years in public office as mayor, congressman, and United Nations ambassador; his leadership of the Atlanta Olympic Games, his advocacy of investment in Africa through GoodWorks International, and the establishment of the Andrew J. Young Foundation.
Young confronted segregation with Dr. Martin Luther King Jr. and galvanized a movement that transformed a nation through nonviolence. He was elected to the U.S. Congress in 1972. In 1977, President Jimmy Carter appointed him to serve as the nation's first African American ambassador to the United Nations. As mayor of Atlanta during a recession, Young turned to international markets for investments in the city, attracting new businesses and bringing one million jobs to the region
Young has received honorary degrees from more than 100 colleges and universities in the United States and abroad. He was honored with the Presidential Medal of Freedom in the United States and the Legion d'Honneur in France, each nation's greatest civilian honor. Additional honors include an Emmy Award for Lifetime Achievement, a portrait in the Smithsonian National Portrait Gallery, and appointment by President Bill Clinton as founding chair of the Southern African Enterprise Development Fund. He serves on a number of boards, including the Martin Luther King Center for Nonviolent Social Change, the United Nations Foundation, and the Andrew Young School for Policy Studies at Georgia State University and Morehouse College.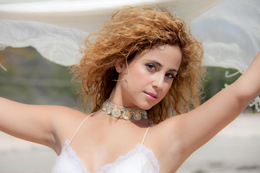 Liel Kolet
Liel Kolet, a 23-year-old international singer, songwriter, and peace advocate, began her professional career at 12 when she won the prestigious European talent contest Bravo Bravissimo. She performs all over the world and has collaborated with Andrea Bocelli, The Scorpions, Patti Labelle, Herbie Hancock, and Slash, and shared a stage with President Bill Clinton, who invited her to perform in Los Angeles, as well as at a tribute event for Nelson Mandela in Toronto. Former U.S.S.R. President Mikail Gorbachev and German President Horst Kohler joined her during a concert in Berlin to sing the peace classic "We Are the World."
Kolet has performed and raised money for many organizations, including UNESCO, UNICEF, the United Nations, and The International Cancer Foundation. She received Germany's prestigious Radio Award for her humanitarian work. In December 2007, Israeli Prime Minister Ehud Olmert nominated her as the official ambassador for Northern Israel. In November 2010, she recorded a duet with Andrea Bocelli, a song titled "Ray of Hope" which was written by former Israeli President Shimon Peres and composed by Kolet.
Born in Israel, her sense of morality was shaped by her Israeli and Indian heritage and by growing up in one of the most war-torn parts of the world. Her background has also instilled in her a burning desire to spread the message of peace through her music and voice. She has been named the official ambassador for The Peres Center for Peace, and for international peace organizations in the United States and the United Kingdom. For the last 10 years, she has raised money for Sheba Medical Center's children's hospital.
Kolet is recording her new album, Ray of Hope, with Grammy Award-winning producer Humberto Gatica, to be released in the United States in January. This fall, in conjunction with her new album and tour, ATF will broadcast a national PBS special titled Songs of Peace.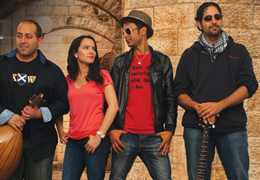 TEAL-ONE97
TEAL-ONE97—the Eclectic Ambassadors of Love—is an all-star rock music collective created by a new generation of American maestros of Middle Eastern and North African descent. With multilingual vocals, groovy global rhythms, and transcendent melodies, this group creates a uniquely hip soundscape that pays homage to each artist's ethnic and American musical heritage, blending influences from Iraq, Morocco, Algeria, Lebanon and beyond. Inspired by the global emanations of the Arab Spring, this dynamic combo debuts in 2012 with a powerful message of hope and positive change for a new generation and a new day, worldwide. Their flagship song and debut album are both titled New Day on the Horizon.
The group's founders—maestros Laith Alattar, Nidal Ibourk, MC Rai, and Ronnie Malley, and producer Dawn Elder—view themselves as a core, ready to collaborate with like-minded artists of all backgrounds. That process has already begun with the New Day recording and with the band's first major public performance at the One World Concert featuring the Dalai Lama at Syracuse University.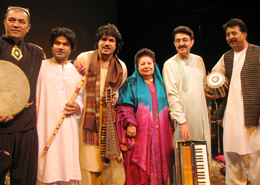 Voices of Afghanistan
Voices of Afghanistan bridges three generations of the finest traditional musicians from Afghanistan and Central Asia. Legendary Afghan songstress Ustad Farida Mahwash represents the country's "golden age" of music—the 1970s. She is accompanied by rubâb master Homayoun Sakhi and The Sakhi Ensemble, which specializes both in the rich folkloric and classical traditions of Afghanistan, and in bold contemporary works. Sakhi, the group's musical director, has devoted his life to studying the rich music of his region, and has emerged as one of its greatest living composers. A performance by Voices of Afghanistan is a journey through time and space, reprising the glories of the Afghan past, and reaching all the way to its increasingly global contemporary life and expression. The Sakhi Ensemble includes Abbos Kosimov of Uzbekistan, considered one the most entertaining and explosive players of the Central Asian frame drum called doyra; Khalil Ragheb on harmonium, vocals; Ezmarrai on Tabla; and Perviz Sakhi on Tula.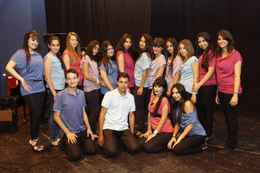 Voices of Peace Choir
The Voices of Peace Choir is comprised of Jewish, Muslim and Christian youths from Tel Aviv-Jaffa singing in English, Hebrew and Arabic. Through its music and songs, the choir sends a message of peace, solidarity and real cooperation between nations and cultures. The Voices of Peace is unique, both for its members and for audiences; its importance lies not only in its words and songs, but also in the message that it conveys to its audiences, Arabs and Jews alike.
The choir serves as a model for a successful educational and musical framework between cultures, as members get to know the "Other," which leads to a better shared future. The choir's repertoire includes a variety of songs from unique musical styles, combining traditions and languages and creating fascinating, exciting performances. It has performed at numerous events including the memorial ceremony for prime minister Yitzhak Rabin, the Duet in Yaffo festival, various television programs, the Feast of Feasts Carnival, the Peres Center for Peace Ten Year Gala Event, functions in France, Belgium and England, as well as Foreign Ministry offices.