Emmanuel Jal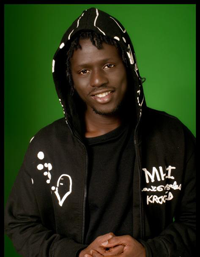 In the war-torn region of Southern Sudan, Emmanuel Jal was born into the life of a child solider on an unknown date in the early 1980s. Through unbelievable struggles, Emmanuel managed to survive and emerge as a recording artist, achieving worldwide acclaim for his unique style of hip hop with its message of peace and reconciliation born out of his personal experiences. His latest single, We Want Peace, from his upcoming album, See Me Mama is heavily influenced by this background.
Emmanuel has released three studio albums: Gua, Ceasefire and Warchild. His music can also be heard alongside Coldplay, Gorillaz, and Radiohead on the fundraising Warchild – Help a Day in the Life album, as well as in three ER episodes, the National Geographic documentary God Grew Tired of Us and in the feature film Blood Diamond starring Leonardo DiCaprio. He is also featured on John Lennon's Instant Karma: The Amnesty International Campaign to Save Darfur, amongst the likes of U2, REM and Lenny Kravitz.
Emmanuel's live appearances have included Live 8 and Nelson Mandela's 90th Birthday Concert. He has performed with acts such as Faithless, Razorlight, Supergrass and Fat Boy Slim in Europe and has toured the United States as part of the National Geographic All Roads Film Festival, in which he performed in New York, Washington DC, Los Angeles and New Orleans. Jal also performed with Moby and Five for Fighting in the 2007 live concert film, The Concert To End Slavery and, more recently, with Alicia Keys at her Black Ball in New York and Joss Stone at the Melbourne Festival closing Concert, 2011.
Emmanuel is in demand as a speaker and has addressed the UN, US Congress and the highest tiers of several governments. In 2010 he was involved with the British Council, Clinton Global Initiative, Adolescent Girls Initiative (World Bank in association with the Nike Foundation), Child Soldiers Initiative and the launch of Ericsson's Refugees Reunited Software. He was one of the faces of Amnesty International's 2010 World Refugee Day Campaign and appeared at Alicia Keys' Keep a Child Alive Black Ball 2010 in London.
In 2011 he has taken part in the Oxfam Climate Change Campaign, CNN Freedom Project, Amnesty International 'Toast to Freedom' single and spoken alongside Kofi Annan and Martti Ahtisaari for CMI in Finland, Matt Dillon for Refugees International in Washington DC and Angelina Jolie at the ICC for Cinema for Peace. In 2012 Emmanuel has continued to support Amnesty International as one of their main spokespeople in support of the International Arms Treaty and his song Warchild has been included in their 'Music and Human Rights' pack for all UK schools.
Emmanuel's press and media coverage includes interviews with the New York Times, CNN, Fox News, Washington Post, USA Today, Newsweek, BBC Newsnight, CBC, NBC,The Guardian, The Times, The Independent, MTV, CTV, BBC Radio 4 and many more outlets worldwide. His 2009 TED Global talk has achieved tens of thousands of YouTube hits.

In 2008 a full-length documentary on his life was released. The film, Warchild, won 12 prestigious film festival awards worldwide. In the same year, his autobiography, also called Warchild, was published by Little Brown.
Emmanuel Jal appears as the adult lead in the major motion picture Africa United, a Pathé, UK Film Council and BBC Films presentation in association with Warner Bros, released in October 2010.
Despite his accomplishments in music and film, one of Jal's biggest passions is Gua Africa, the charity he has founded to work with individuals, families and communities to help them overcome the effects of war and poverty. Besides building schools, the charity provides scholarships for Sudanese war survivors in refugee camps and sponsors education for children in the most deprived slum areas in Nairobi. Gua Africa is now fundraising to complete phase 2 of 'Emma Academy' the education centre in Leer named after the British aid worker Emma McCune who rescued Emmanuel from a life as a child soldier.
In December 2010, Jal released We Want Peace, as part of the wider campaign of the same name calling for peace, protection and justice for all in Sudan ahead of the January 2011 referendum, but also calling for an end to all conflicts affecting innocent people around the world. The campaign was supported by A-list artists and leading figures from diverse fields – Peter Gabriel, Alicia Keys, George Clooney, Richard Branson, President Jimmy Carter, Kofi Annan and many more. In 2011, Jal received the coveted Common Ground Award in Washington DC, previously awarded to the likes of Desmond Tutu and Mohammad Ali, for his outstanding commitment to peace building. In April 2012 he was asked to be a Young Global Leader for the World Economic Forum and in June to perform at the G20 summit in Mexico.
Emmanuel released his fourth album See Me Mama on August 7, 2012 and is undertaking his Lose to Win Campaign, visiting up to 200 schools, colleges and universities world wide to tell his story and raise funds for Gua Africa, Africa Yoga Project and My Start for Windle Trust International.