HIS HOLINESS THE 14TH DALAI LAMA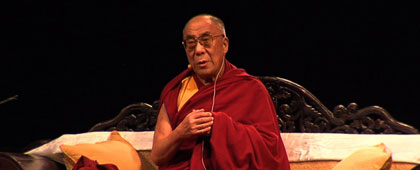 His Holiness the 14th Dalai Lama, Tenzin Gyatso, was born on July 6, 1935, to a farming family in a small hamlet in Taktser, Amdo, northeastern Tibet. At the age of two the child, who was named Lhamo Dhondup at that time, was recognized as the reincarnation of the 13th Dalai Lama, Thubten Gyatso. The Dalai Lamas are believed to be manifestations of Avalokiteshvara or Chenrezig, the Bodhisattva of Compassion and patron saint of Tibet.  Bodhisattvas are enlightened beings who have postponed their own nirvana and chosen to take rebirth in order to serve humanity.
His Holiness the Dalai Lama is a man of peace. In 1989, he was awarded the Nobel Peace Prize for his non-violent struggle for the liberation of Tibet. He has consistently advocated policies of non-violence, even in the face of extreme aggression. He also became the first Nobel Laureate to be recognized for his concern for global environmental problems.
His Holiness has travelled to more than 62 countries spanning six continents. He has met with presidents, prime ministers and crowned rulers of major nations. He has held dialogues with the heads of different religions and many well-known scientists.
Since 1959, His Holiness has received over 84 awards, honorary doctorates, prizes, etc., in recognition of his message of peace, non-violence, interreligious understanding, universal responsibility and compassion. His Holiness has also authored more than 72 books.
His Holiness describes himself as a simple Buddhist monk.