A.R. Rahman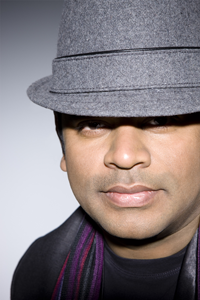 A two-time Academy Award winning composer, A. R. Rahman has helped redefine contemporary Indian music. The "Mozart of Madras" as Time Magazine dubbed him, has sold more than 150 million CDS comprising of music from more than 100 film soundtracks and albums across over half a dozen languages, including landmark scores such as Roja, Bombay, Dilse, Taal, Lagaan, Vandemataram and more recently, Jodhaa Akbar, Delhi 6, Slumdog Millionaire and 127 HOURS. 
Rahman pursued a musical career at a young age and obtained a degree in western classical music from the Trinity College of Music, London. He set up his own in-house studio Panchathan Record-Inn at Chennai.
In 1991, he debuted with the score for "Roja", a run-away success which won him the Indian National Award for best music composer, the first time ever by a debutant. Since then, Rahman has gone on to win the National Award 3 more times, the most ever by any music composer.
Ten years later, Andrew Lloyd Webber invited Rahman to compose for his musical, "Bombay Dreams," which ran for two years and later premiered on Broadway. Rahman also composed the score for the production of "The Lord Of The Rings," one of the most expensive stage productions ever.
In 2008 Rahman gained global prominence with his score for "Slumdog Millionaire" winning two Academy Awards for "Best Score" and "Best Song."  Overall, he won 15 awards including two Grammys, a Golden Globe and a BAFTA.  To date, Rahman has won 25 Filmfare Awards, 3 MTV Awards, 4 IIFA Awards, 6 Tamil Nadu State Awards, 6 Zee Awards, and 4 Screen Awards.
Rahman has been bestowed with the Padma Bhushan and Padma Shri, two of India's highest national civilian honours, recognizing his contribution to music, in addition to several other awards including 4 Indian National Film Awards and 25 Filmfare Awards, India's leading recognition for films. He was also named by Time as one of the 100 most influential people in the world in 2009..
That same year, Rahman made his first foray into scoring music for an American comedy feature with the #1 box office hit "Couples Retreat" (Universal Pictures). In 2010, Rahman reunited with acclaimed filmmaker Danny Boyle for 127 HOURS.  The Wall Street Journal praised Rahman's score by saying "as in "Slumdog," A.R. Rahman's score drives the narrative with relentless force" and Peter Travers at Rolling Stone noted "like the A.R. Rahman score that drives the movie, the triumphant, enthralling 127 HOURS pays fitting tribute to Aron by being thrillingly alive."
Rahman's score for 127 HOURS won the Critics Choice Award for "Best Song" ("If I Rise" - performed by Dido and A.R. Rahman, music by A.R. Rahman/lyrics by Dido Armstrong and Rollo Armstrong) by the Broadcast Film Critics Association's (BFCA). Rahman was also nominated for two Academy Awards for "Best Original Score" and "Best Original Song," a Golden Globe for "Best Original Score" and a BAFTA for "Best Original Music."
Rahman performed at The 84th Academy Awards® as part of the first-ever all-star Academy Awards® band which featured Rahman alongside Hans Zimmer, Pharrell Williams, Esperanza Spalding and composer Gigio Moroder.
Rahman is currently working on composing the music for DreamWorks Animation's Monkeys of Mumbai, and also recently completed composing writer Alex Kurtzman's directorial debut, People Like Us (starring Chris Pine, Olivia Wilde, Elizabeth Banks, Jon Favreau and Michelle Pfeiffer) which is set for release on June 29.
Rahman has undertaken several sellout concert tours in over 30 international destinations including his 2010 Jai Ho: The Journey Home World Tour.   A.R. Rahman was also invited to perform at The Nobel Peace Prize Concert in 2010.  In July 2011, Rahman returned to Los Angeles for a special sold-out performance at The Hollywood Bowl where he performed for the first time with the Los Angeles Philharmonic for an evening celebrating his prolific career.
Rahman wants to establish a tradition in western classical music in India and recently set up the KM Music Conservatory and Symphony Orchestra based out of Chennai.  He plans to provide a platform for non-mainstream music through his music label KM Musiq and will shortly launch a couple of artists.
Rahman has also set up the A.R. Rahman Foundation to help underprivileged children.  He also serves as the UN Ambassador for the 2015 Millennium Development Goals.
Visit A.R. Rahman's official website