Liel Kolet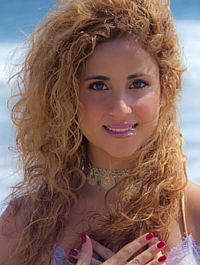 The meteoric rise of Liel's career from the age of twelve to the present day has been astounding. The singer song writer has been blessed with an extraordinary talent, angelic voice, and magical persona that captivate audiences around the world. At the still young age of 23, Liel performs all over the Globe and has collaborated with Andrea Bocelli,The Scorpions, Patti Labelle, Herbie Hancock, Slash and even had the honor to share a stage with president Bill Clinton.
Born and raised on a Kibbutz in northern Israel, her personal crusade to promote peace and for the well being of children all over the world has brought her to the attention of the Pope, for whom she performed in Germany.

The 23-year-old international singer, song-writer and peace advocate began her professional career at the age of 12 when she won the prestigious European talent contest - Bravo Bravissimo.

Since the age of 13, Liel has performed and raised money for many organizations including: UNESCO, UNISEF, United Nations, the EU, Vizo, The International Cancer Foundation, Kids Rights, Seeds of Peace, Save a Child's heart and Children of Peace.

At the age of 14, during her performance at an international peace event, Liel spontaneously invited President Bill Clinton to join her on stage as they were surrounded by 80 Arab and Jewish children. CNN/International broadcasted President Clinton and Liel singing together one of history's most important songs about peace - John Lennon's "Imagine". Their impromptu duet instigated a firestorm of publicity and she became a "highly sought after personality" for royal events, peace concerts, and charities throughout the world. President Clinton later invited Liel to perform in Los Angeles, as well as at a tribute event for Nelson Mandela in Toronto.

President Mikail Gurbatchov and the German President - Horst Kohler, joined her during a concert in Berlin to sing the peace classic "We Are The World".

At the age of 15, Liel launched her career in Germany, a critical market for musicians, where She received Germany`s prestigious "Radio Award" for her humanitarian work. She has recorded three duets with the legendary German rock band "The Scorpions" and has appeared on the biggest German TV shows (RTL, Sat 1, ARD, SF TV). Germany's leading publication - Bild- crowned Liel: "The next Vocalist Singer".

At the age of 16, Liel represented Switzerland at the "Eurovision" (europe's biggest live TV show) with yet another song about peace.At the same year she toured Mexico to promote the release of her album "Unison"  which includes songs in Spanish, a blend of pop classical songs wrapped in ethnic flavors. Liel appeared in the Mexican Telethon as well as on many TV shows and sold over 40,000 albums in Mexico. 

Today at age 23, kibbutz-born Liel has risen from her humble roots to become known as her generation's symbol of peace.  Liel's heritage is Israeli and Indian and growing up in one of the most war-torn parts of the world shaped her morality.
It has also instilled a burning desire to spread the message of peace through her music and voice. She has been named as the official ambassador for The Peres center for peace, and for two international peace organizations in the United States and United Kingdom, as well as for the last ten years she has been raising money for Sheba Medical center's children hospital.
In December 2007,the Prime Minister of israel Ehud Olmert nominated Liel as the official ambassador for Northern Israel.
On July 7th 2007 she performed with the legendary musician Herbie Hancock at a concert in Monte Carlo.

In 2008 Liel collaborated with the Diva Patti Labelle, they recorded the song, "For the love of God."

In November 2010 Liel recorded a duet with Andrea Bocelli, a song titled "Ray of Hope" which was written by President Shimon Peres and composed by Liel.

2011-2012: Liel is currently living in L.A and recording her new album with, 16 times Grammy Award Winner, Producer Humberto Gatica, to be released in the United States in January 2013.

As of September 2012 throughout December ATP will broadcast Liel's national PBS special titled "Songs of Peace", and her tour in the USA is starting in January 2013.

Her album "Ray Of Hope" will be released in conjunction with her PBS broadcast and tour.