Andy Madadian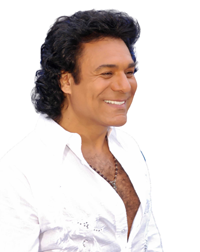 Bringing matinee idol charisma to the silver screen and concert stage is Andy, Persia's legendary music exile aka "The Prince of Persia" or "The Persian Elvis" in media circles, who has released multiple albums selling in the millions throughout the world with countless Number 1 hits.  Voice of America, the Persian program called the Iranian /Armenian the best artist of the year and Armenian pulse called him the best Armenian international singer of the year. Andy has toured extensively around the world many times over playing some of the globes most prestigious venues, theatres and stadiums. A humanitarian, he has appeared and contributed in many International charitable causes, most recently having recorded "Stand by Me" with Jon Bon Jovi to show solidarity for the people of Iran garnering 7 million hit on youtube . Appearances in feature films have  include DREAMWORKS'  "The House of Sand and Fog" (Sir Ben Kingsley and Jennifer Connelly) where Andy is featured singing in the film and contributed to the score and he has supported and contributed to several indie films such as "Futbaal," "The Florist," and  Guide Company Films "The Keeper" (The Legend of Omar Khayyam) with Academy Award Winner  Vanessa Redgrave, in which Andy plays the  governor of the ancient city of Samarkand.  Andy first made his mark on ABC's 2001 production of the "Princess and the Marine."
When Andy's not acting or producing movie scores, Andy's a musical trailblazer forging a new path that redefines traditional musical borders. He plays to sold-out venues all over the United States, Europe, Canada, Australia, Russia and the Middle East. His touring schedule regularly includes locales rarely if ever performed in by American--based artists such as Armenia, Uzbekistan, and cities Tashkent,Samarghand, and in the Middle East, the United Arab Emirates, amongst others, spreading his universal message of love and joy.  In the United States, he has played for the last ten years to critical acclaim at the Greek Theatre in Los Angeles, as well as the prestigious Kodak Theatre in Hollywood and large scale venues in Las Vegas. His music was recently chosen by the JPF "Independent Music" Awards Best Middle Eastern Album and Song for the second year in a row. In a gala ceremony at Universal Studios, he was named Persian Pop Male Singer of the Decade.  For five years in a row he has received the coveted Best Armenian International Singer, Best Armenian World Artist and Best Armenian World Album awards and in Nov 09 he received the " Legend Award " from Big Apple Music Awards.  He was also recognized and awarded twice by the City Council of Los Angeles for his contributions through music to the city. 

At first glance, it's the dance music side of Andy that stands out. Somewhere between the mystery of an ancient civilization and music that dates back 5000 years and the youthful brashness of modern music, Andy has made his own unique place in music history. He has created a new fusion of sound that combines traditional Middle Eastern instruments with the Western world's drum and bass, guitar and modern technology.  His global sound embraces many exotic influences. Aside from his Persian- Armenian heritage, Andy combines lush Arabic modes with African rhythms, in which he spices with Spanish flamenco guitar licks, and western dance music.

Besides Farsi and Armenian, his two native languages, Andy sings in English and Spanish. Ironically, even though Andy's music is banned in his home country of Iran, his albums sell in the millions, though all are underground and bootlegged. From his early childhood in Teheran, his life has been a study in contrasts. His father built roads, yet the family had no car. They were beyond poor - nine people living in a small one-room house but his mother's careful management kept food on the table and enabled his parents to put six children through school. Their house was filled with love, laughter, and most importantly for Andy, music.

As Andy was beginning to explore his musical roots, his native land began to broil with turbulence. The Islamic Revolution under the new religious leadership brought civil war and Andy made the decision to leave Iran.  The revolution has made it impossible for Andy to perform in his native country because of the governmental ban on Persian pop music recorded outside the country. Besides the profound respect Andy has for Persian and Armenian poetry , working with the same lyricist Paksima for over twenty years, he developed an abiding love for contemporary Western music.  His musical icons include the Beatles, Deep Purpl , Santana and Ray Charles.
Today, Andy is the living proof of the American dream. He credits Los Angeles, a city of contrasts that helped him forge his unique sound, and the musical mosaic that resulted has catapulted him to superstardom. Audiences can't get enough of this exciting combination:  the poetic beauty of Persian and Armenian music set against the vibrant backdrop of dance music. Andy's songs break every tradition and some taboos, but young and old alike, from East to West, now pack his concerts and buy his albums. And as such he has an established and loyal International fan base. Once a professional soccer player, Andy's love for the game has remained throughout the years and a personal highlight, he was chosen to be the Featured Halftime Performer for the exclusive Chelsea VS Inter-Milan Soccer Match at the Pasadena Rose Bowl which allowed him to combine both his passions.

On 11.11.11 Andy married his longtime girlfriend , American international singer /songwriter Shani Rigsbee and this week their duet single " DJ " is number one in the  charts.
Visit Andy Madadian's official website